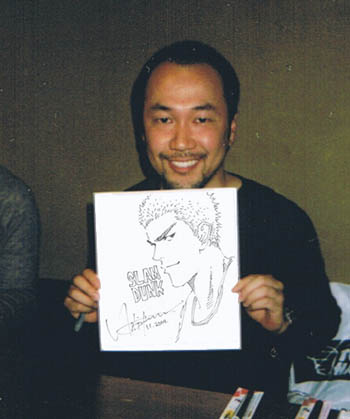 Takehiko Inoue (井上雄彦
Inoue Takehiko)
born on 12 January, 1967 in Okuchi, Kagoshima, is a Japanese manga artist, best known for the basketball manga
Slam Dunk
, which has become a success both in Japan and overseas.
Many of his works are about basketball, Inoue himself being a huge fan of the sport, and many Japanese children started to play basketball because they read the manga. This in turn helped make basketball popular in Japan and across East Asia. Inoue has been drawing manga mainly in male-oriented magazines. His name is ordered as Takehiko Inoue on his books sold in North America through Viz Media (Vagabond, Slam Dunk, and Real), although Gutsoon! Entertainment's earlier Slam Dunk translations in North America used Inoue Takehiko.
In 2012, Inoue became the first recipient of the Cultural Prize at the Asia Cosmopolitan Awards.
Career
Before his debut, Inoue was an assistant to Tsukasa Hojo on City Hunter. He made his debut in 1988, when 'Purple Kaede' (楓パープル) appeared in Weekly Shōnen Jump magazine. It won the 35th annual Tezuka Award.
His first serialization was in 1989 with 'Chameleon Jail,' for which he was the illustrator of a story written by Kazuhiko Watanabe. Inoue's first real fame came with his next manga, Slam Dunk, about a basketball team from Shohoku High School. It was published in Weekly Shōnen Jump from 1990 to 1996 and has sold over 157 million copies worldwide. In 1995, it received the 40th annual Shogakukan Manga Award for shōnen manga and in 2007 was declared Japan's favorite manga. Slam Dunk was adapted into a 101 episode anime television series and four movies.
The next work he produced was 'Buzzer Beater,' a collaboration with ESPN in 1997. It's about a basketball team from Earth that attempts to compete on the intergalactic level, it appears on his official web site in four languages: Japanese, English, Chinese, and Korean. 'Buzzer Beater' was produced into a 13 episode anime series in 2005. In 2007, a second 13 episode series was produced. Both seasons were animated by TMS Entertainment.
'Vagabond' was Inoue's next manga, adapted from the fictionalized accounts by Eiji Yoshikawa of the samurai Miyamoto Musashi, which he began drawing in 1998. It won him the Kodansha Manga Award for General manga in 2000 and the Osamu Tezuka Culture Award in 2002.
While still working on 'Vagabond,' Inoue began drawing 'Real' in 2001, his third basketball manga, which focuses on wheelchair basketball. It received an Excellence Prize at the 2001 Japan Media Arts Festival. Both 'Vagabond' and 'Real' are currently ongoing.
In addition, Inoue also contributed character designs for the Xbox 360 RPG, Lost Odyssey.
Works
Serialized manga
Chameleon Jail (1989–1990)
Slam Dunk (1990–1996)
Buzzer Beater (1997–1998)
Vagabond (1998–present)
Real (1999–present)