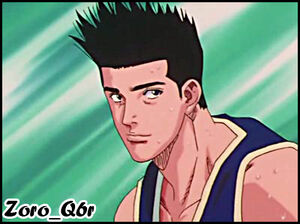 Before the Game
Shohoku High School's first major game of the year is a friendly game played against the fourth-best team in the region -- Ryonan. Prior to the game, Hikoichi arrives at Shohoku in the evening to learn more about Shohoku, and discovers Sakuragi practicing in the court all by himself. He first mistakes him for Rukawa, and is easily convinced by Sakuragi that he is better than Rukawa. As a result, Hikoichi looks forward to seeing Sakuragi in action against his team.
However, Shohoku never intended to let Sakuragi play, and at first, didn't even give him a jersey. It was only after Sakuragi kicked up a scene that he was grudgingly given jersey no. 10. But he was still not allowed to be part of the starting line-up. Coach Anzai managed to placate him by assuring him that he was the team's secret weapon.
The Ryonan team, however, is still not ready to play, since its ace player Sendoh hasn't shown up yet. He does show up after a while, apologizing to a fuming Coach Taoka, saying that he overslept.
The Game
[[Category:The game begins by Akagi and Uozumi jump ball. Shohoku got the ball and Uozumi starts blocking. Shohoku looks forward Ryonan. During the game, Coach Taoka announce to lead the point by 30. Sakuragi got pissed and stabs, Coach Taoka in the ass with his gun finger. Shohoku got a foul and Ryonnan gets a free throw leading the point by 15-0 with Shohoku with no points. Sendoh begans to fake Rukawa while passing to the others and scoring by 19-0. Shohoku starts to calm and score. At the end of the quarter, Shohoku ends the game by 50-42 with only trailing by 8-points. Sakuragi starts getting really pissed. In the second quarter, Shohoku scores. Coach Taoka calls a time out and starts getting pissed. He yells at the team but Sendoh did not pat attention. He sits and chew on a lemon. Coach Taoka starts yelling a him loudly.]]
Ad blocker interference detected!
Wikia is a free-to-use site that makes money from advertising. We have a modified experience for viewers using ad blockers

Wikia is not accessible if you've made further modifications. Remove the custom ad blocker rule(s) and the page will load as expected.