Shinichi Maki
Talk

0
67pages on
this wiki
Shinichi Maki

Maki Shinichi Card
Title
Anime Name
Shinichi Maki
Manga Name
Shinichi Maki
Characteristics
Gender
Male
Height
184 cm
Weight
79 kg
Hair colour
Dark Brown
Eye colour
Black
Professional status
Occupation
Basketball Player
Team
Kainan University -- High School
Position
Point Guard
Jersey Number
#4
Debuts
Manga Debut
{{{manga debut}}}
Anime Debut
{{{anime debut}}}
(牧 紳一 ,
Maki Shin'ichi
)
Maki is the captain of the Kainan basketball team, and reputedly the best player in the region. He was crowned MVP of the prefecture twice. As captain of the team, he commands a lot of respect, and his teammates follow his orders to the letter. Although his personality differs from that of Takenori Akagi, he occasionally has to be strict when dealing with Nobunaga Kiyota .
Apperance
Edit
He has a cool appearance, tanned skin and has a mole on his left corner of the eye. He is in an average height of a basketball player and shows to be calm in every match he had.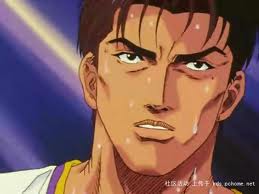 Personality
Edit
He is a very shrewd player, and does not hesitate to exploit his opponents' weaknesses to the fullest, as demonstrated in the Kainan vs. Ryonan game, when Uozumi gets tricked into fouling out. In the same game, he narrowly avoids losing the game by divining just in time what Sendoh's intentions were, and thus saves himself from committing a foul. He also has great control over his body and mind. Even when fouled in midair on more than one occasion, he confidently scored his shot. He is often made fun of by Sakuragi and his friends for looking older than his age.
Playing Style & Skills
Edit
His main advantage is his broad physique as he uses it to drive into the lane to score while drawing a foul. Even though he mostly play as a point guard, he has the all-around skills to virtually play any position. His scoring ability is incredibly strong as four players from Shohoku( Akagi, Mitsui, Miyagi and Rukawa) are needed to completely shut him down. He uses his height and power against other point guards to create mismatches which his team usually capitalizes on.
Maki's main rival is Kenji Fujima of Shoyo, although Maki is decidedly better than him. Maki was named the MVP of the Kanagawa tournament.
During the match against Shohoku, when Akagi had an injury and continues to play, he is gained respect for his determination and a tough player.
During the fight with Ryonan High, Ryonan's Coach Taoka decides to have a man to man defense to keep Maki facing Sendoh for he believes Sendoh is capable of defeating Maki.
He is first seen during Shohoku's game against Miuradai, when he approaches Sendoh for a brief conversation. Here, he expresses his lack of interest in the game, stating that it didn't matter who won -- even if it were Ryonan. He later hints at finding the game exciting, when his teammates Kiyota and Jin arrive.