REDIRECT Template:Team Infobox"No Clue...No Clue at All" is the 103rd chapter of the Slam Dunk manga.
Summary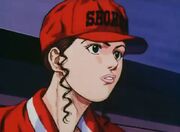 AYAKO SLAM DUNK
Team Manager (She teaches Hanamchi, Ryota & others Rebound Dribbling and Manages where they go next. Also talks to the school newspaper and writes down the scores and information about other basketball players).
15-16 years old.
Joins in the 5th episode of Slam Dunk Anime.
Ayako is introduced on page 170 in the Slam Dunk Manga Vol.1.
She's went to the same school with Rukawa Kaede.
Ayako is a 2nd year at her school where Ryota the Point Gaurd basketball player has a crush on her.
Ayako is a strict Manager but not as strict as the Captain of the basketball team, Akagi Takenori.
Things she carries with her. ( Managing book, Timer, and a whistle).
If you watch the whole series and the 4 movies the last movie she her Managing position to a boy. So she wouldn't be in a Slam Dunk sequel 2.
Ad blocker interference detected!
Wikia is a free-to-use site that makes money from advertising. We have a modified experience for viewers using ad blockers

Wikia is not accessible if you've made further modifications. Remove the custom ad blocker rule(s) and the page will load as expected.