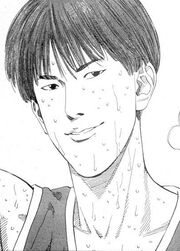 Atsushi Tsuchiya is the ace of Daiei High School who first appears when he and his team comfortably defeat Toyotama in the final match of the Osaka tournament. Tsuchiya appears again when Daiei are seen cruising through their opening match, and then again after they had won their second match to witness the showdown between Shohoku and Sannoh with the rest of the Daiei High Basketball.
Abilities
Tsuchiya is the ace of Daiei High School and even Toyotama High were unable to control him. He possesses an excellent individual technique and is also capable to provide assists to his teammates. According to Hikoichi, his style of play is very similar to that of Akira Sendoh.
Trivia
Ad blocker interference detected!
Wikia is a free-to-use site that makes money from advertising. We have a modified experience for viewers using ad blockers

Wikia is not accessible if you've made further modifications. Remove the custom ad blocker rule(s) and the page will load as expected.