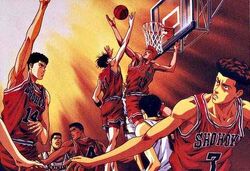 An anime adaption of the manga Slam Dunk was premiered since 1993. It is produced by Toei Animation. Directing the series is Nobutaka Nishizawa.
The anime premiered October 16, 1993 and ended March 23, 1996.
The first opening song is "Kimi ga Suki da to Sakebitai" by Baad and the second opening song is "Zettai ni, Daremo" by ZYYG. The first ending song is "Anata Dake Mitsumeteru" by Maki Ohguro, the second ending song is "Sekai ga Owaru Made wa..." by Wands, the third ending song is "Kirameku Toki ni Torawarete" by Manish, and the fourth ending song is "My Friend" by Zard.
List of episodes
Main article: Episodes
External links
See also
References
Ad blocker interference detected!
Wikia is a free-to-use site that makes money from advertising. We have a modified experience for viewers using ad blockers

Wikia is not accessible if you've made further modifications. Remove the custom ad blocker rule(s) and the page will load as expected.